2004 New 8 in 1

The front of the cartridge.
Developer
Various
Cart ID(s)
CW-819
Original developer
Various
Console
Sega Mega Drive
Date
2004
Engine
Various
Sound engine
Various
Alternate names/hacks
8 in 1 (Selection screen)
The 2004 New 8 in 1 is a multicart made for the Sega Mega Drive (Genesis) by an unknown company in 2004. As most other multicarts, the label pictures cover arts of the games, and the games have the copyright claims removed. The plastic shell is poorly made, and it's very difficult to keep it up together sometimes. A feature of this cartridge is that more than half the games (5/8) are developed by Sega itself.
Menu Title (Actual title)
SUNSET RIDERS (Sunset Riders, by Konami)
DICK TRACY (Dick Tracy, by Sega)
SHADOW DANCER (Shadow Dancer, by Sega)
ESWAY (Cyber Police ESWAT, by Sega)
SHINOBI (The Revenge of Shinobi, by Sega)
AFTER BURNER (After Burner II, by Sega)
CHASE HQ 2 (Chase H.Q. II, by Taito)
ROBOCOP 3 (Robocop 3, by Flying Edge / Eden Entertainment Software)
Title screens
Edit
Card, PCB, & Label
Edit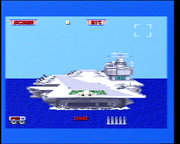 In After Burner II, the "Sega Enterprise" logo in the aircraft carrier at the beginning of the first stage is covered by grey tiles, leaving just the "Enterprise" word.
The covers on the cartridge label are poorly custom made, except for the Chase H.Q. II and Robocop 3 ones.
The ESWAT cover on the label, except for the title, is completely unrelated with the actual game. The image shows a soldier in the desert, when the right protagonist is a city robot police officer.
The two parts of the shell seem to be produced in two separate times.
Unusually, the back of the shell features all the text included in a normal Mega Drive cartridge (Including the Sega logo and the "Made In Japan" writing), and strangely not including any typo. Even the various patents' numbers are also rewritten without any error.
The screws in the back shell are fake: they are just molded in the plastic.
The small PCB is attached to a piece of plastic to hold it in place. (See pic)
Community content is available under
CC-BY-SA
unless otherwise noted.