Bio Hazard (Famicom)

Bio Hazard's Title Screen
Publisher
Waixing
Developer
Waixing
Console
NES/Famicom
Date
2003
Sound engine
Waixing
Bio Hazard (also called 生化危机 or "Resident Evil" in Chinese) is a NES/Famicom pirate made by Waixing in 2003 based on Resident Evil for the PlayStation. The plot follows the original game scripts, although just Jill is a playable character and the game is in Chinese.
Overview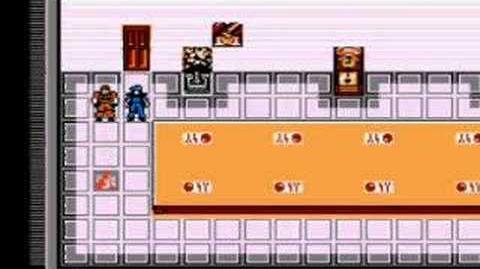 This game impresses because of the small details. The beginning of the game brings the introduction of Resident Evil 1, originally a video, adapted to sprites. On the title screen, it's possible to start a new game and load a save game from four available slots for saving.
Similar to most Waixing games, the sounds of the game can get annoying and doesn't have any tracks from the Resident Evil series. The menu can be accessed by pressing Start and it is perfectly function. After obtaining the map, a "map" button will become available on the menu.
To save the game, you need to grab the ink ribbon and go to the typewriter. The battle system and sprites seem to be derived from the Resident Evil Gaiden for the Game Boy Color.
Trivia
There are two ROMs available; one of them freezes and makes the gameplay almost impossible in most emulators, but the second one (extracted from a WXN pack) doesn't freeze and works only in selected emulators. Also, the original cartridge doesn't have many bugs and the gameplay is completely viable.
A Zapper or a generic pistol can be used to shoot the enemies during the battle screen.
Unlike the original game, this port removes the Black Widow and Giant Snake boss battles. However, the Plant 42 boss is intact.
Gallery
Community content is available under
CC-BY-SA
unless otherwise noted.