Bit Corp.

Bit Corp.'s logo
Origin
Taiwan
Years
1982-1992
Consoles
Atari 2600, Famicom/NES, Gamate, SG-1000
Sounds used
Bit Corp. custom, Guo Qiyong
Aliases
Puzzy
Games published by
HES Interactive (Australia), Fiver Firm
Bit Corp. (普澤) is a developer and publisher from Taiwan which developed numerous games for the Atari 2600, Famicom/NES and Gamate. Bit was one of the first Taiwanese console manufacturers[1] and game developers.
Overview
During their lifetime, they made numerous unlicensed games and consoles. Their games were unlicensed (although this was standard for Atari 2600 games) and their Atari 2600 games were released in Europe with both English and German titles.
Their Famicom/NES games were published by various companies in PAL regions, especially Australia and Brazil, and all with the exception of Dian Shi Ma Li (and possibly Duck) were published by themselves in Taiwan. Bit Corp. went out of business in 1992 due to competition from Hong Kong and Chinese clone manufacturers.[1]
International Activities
In the early 90s, Bit Corp created a subsidiary in Argentina. They imported various games from Taiwan and sold them in South America. It seems Bit Argentina lived a bit longer than Bit Corp. For example, they had the time to import and release a mapper hacked Street Fighter II.
Games Developed by Bit Corp.
Atari 2600
Bobby is Going Home
Dancing Plate
Mission 3000 A.D.
Mr. Postman
Open! Sesame
Phantom Tank (Hack of Tanks But No Tanks)
Sea Monster
Snail Against Squirrel
Space Robot
Space Tunnel
Famicom/NES
Crime Busters
Dian Shi Ma Li (published by Fiver Firm, credited as "Namco Corporation")
Othello
Sheng Hen Pao
Shui Guo Li (published by HES as Jackpot)
Hardware
Clones
Amigo/賓果遊樂器 (Bingo Game Console) - Atari 2600 clone
創造者30 (Creator 30) - Atari 2600 clone
創造者50 (Creator 50) (aka Dina 2-in-1, Telegames Personal Arcade) - Combined SG-1000 and Colecovision clone
創造者70 (Creator 70) - Famicom clone
創造者100 (Creator 100) - Famicom clone
Computers
Bit-60 - Compatible with Atari 2600 games
Bit-90 - Compatible with ColecoVision games
Bit-79 - Compatible with Famicom games, has built in BASIC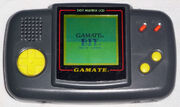 Gamate
The Gamate is a handheld console similar to the Game Boy (although not an exact clone) released by Bit Corp. in 1990. Around 50 games were published by Bit, but after they went out of business in 1992, UMC continued to produce consoles and games, releasing about 20 further games for the system. Many of its games were developed by Gamtec.
References
External links
Community content is available under
CC-BY-SA
unless otherwise noted.