Decathlon

Title screen.
Publisher
Computer & Entertainment
Developer
Computer & Entertainment
Cart ID(s)
G-3010
Console
Famicom
Date
1992
Engine
Own
Sound engine
Guo Qiyong
Decathlon is a Sports Famicom game developed and released by Computer & Entertainment in 1992. It features 8 Olympic sports such as 100-meters, Javelin throw, etc.
Overview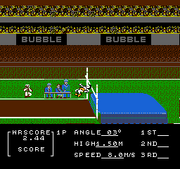 The game can be played alone or with a friend. It offers 2 different modes: Single game (play only one sport) or Full game (play them all). The player can compete in these sports disciplines:
100-meters
Long Jump
Shot put
High Jump
400-meters
110-meters hurdles
Discus throw
Pole vault
Javelin throw
1500-meters
The game lets you choose one of the eight following teams: Britain, France, Germany, Australia, USA, Canada, Japan and Taiwan.
Most games consist of button mashing or precise press and release of specific buttons.
Credits
The credits in Decathlon only show the first name of the developers for some reason. Only C&E founder and president, John Kuo, is credited under his last name.
PRODUCER: MR.KUO
EXECUTIVE PRODUCER: JACK
ORIGINATE WITH: BIRD
CHARACTER DESIGN: TASMIN
GRAPHIC DESIGN: SCORPIO
VISION DIRECTOR: UIP
MAIN PROGRAMMER: DANNY
SUB PROGRAMMER: ANDY
DIALOG TRANSLATION: DARU
DATA INFORMATION: C.T.T.F.A.
COPYWRITER,MUSIC & DIRECTOR: KOSSEL
SPECIAL THANKS TO REABBECA
PRESENTED BY C&E
Gallery
Main article: Decathlon/gallery
Trivia