DreamGEAR, LLC
Origin
Torrance, California
Years
2001-present
Consoles
Plug 'n plays, Handhelds, TV console
Published games by
Nice Code Software, Inventor, JungleTac, Waixing, Trump Grand, Yanshan Software, Dragon Co., Hummer Team
DreamGEAR, LLC is a distributor of unauthorized Famiclone consoles and game accessories, founded in 2001. They are among one of the few English plug 'n play companies left.
Beginning in the mid-2010s, DreamGEAR rebranded their Famiclone and plug-and-play devices under the brand name "My Arcade Gaming".[1] Some time around 2016-17, My Arcade became a separate division of the company entirely, with the DreamGEAR branch now being used solely for game console accessories.
DreamGEAR has a licensing agreement with G-Mode, the rights holder to most of Data East's video game library, and therefore some of their games (e.g. BurgerTime) are included, officially, on some of DreamGEAR's products. Further licensing agreements would later be held with companies such as Bandai Namco Entertainment, Taito, and Capcom, for a variety of devices.
Hardware
DreamGEAR distributes a variety of hardware, including plug 'n plays, handhelds, mini arcade cabinets, and even game consoles with built-in games.
Television games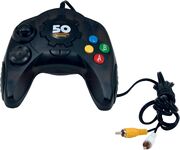 Plug 'n' plays and consoles distributed by DreamGEAR. These devices are very common in malls, thrift stores, and flea markets. Their plug 'n plays most often use Nice Code's games, but their earliest plug 'n plays have JungleTac's games.
15 in 1 - Small controller with 15 games.
30 in 1 - Small controller with 30 games.
45 in 1- Standard controller with 45 games.
50 in 1 - Standard controller with 50 games.
75 in 1 - Standard controller with 75 games.
121 in 1 - Large controller with 121 games, made by Qi Sheng Long.
140 in 1 - Large controller with 140 games.
RetroPlay Controller - Small controller with 200 games.
GameStation - Game system that resembles a Sega Dreamcast, features 75 games.
GameStation Retro
GameStation Wireless
Turbo GT - Steering wheel controller.
Play-A-Long Guitar Kids - Guitar game.
Wireless 86 in 1 - Wireless controller with 86 games.
Wireless 130 in 1 - Wireless controller with 130 games.
VR Table Tennis - Interactive table tennis game.
Motion Control - Wii-style interactive game. VT03 based.
Tennis Rally - Wireless tennis with 40 games, made by Macro Winners Electronics Ltd..
Handhelds
Main article: DreamGEAR My Arcade Handhelds
Handhelds and portable arcade cabinets distributed by DreamGEAR.
Portable arcade cabinets
Bad Dudes Micro Player
BurgerTime Micro Player
Caveman Ninja Micro Player
Data East Mini Player
Heavy Barrel Micro Player
Karate Champ Micro Player
Pac-Man Micro Player
Dig Dug Micro Player
Namco Museum Mini Player
Rolling Thunder Micro Player
Bubble Bobble Micro Player
Galaga Micro Player
Galaxian Micro Player
Elevator Action Micro Player
Ms. Pac-Man Micro Player
Retro Arcade Machine X
Retro Machine
Handhelds
Gamer Max Portable
Gamer Mini
Gamer V Portable
Gamer X Portable
Go Gamer Portable
Learning Pad
Pixel Classic
Pixel Player
Pac-Man Pocket Player
Don Doko Don Pocket Player
Bubble Bobble Pocket Player
Dig Dug Pocket Player
Ms. Pac-Man Pocket Player
Galaga Pocket Player
Reference