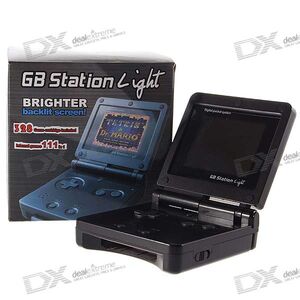 The GB Staion Light is a handheld NES Emulator. Of course, like most other pirated game systems, it too is a Chinese system. The system has an identical appearance to the Gameboy Advance SP, with the shoulder buttons having no function and the light button on the front resetting the system. Games come in cartridges smaller than GBA cartridges (meaning that GBA games cannot be played on it.) It charges with an AC Adapter similar to the GBA charger. Coincidently, a GBA charger will charge it.
Pros
The system has a plug-into-a-TV cable with it. Many classic NES games come on the cartridges. Some unique Japanese games are available. Games are built-in as well.
Cons
The system sound is mono. The cartridges exaggerate their number of games (i.e., 999999 in 1 having only about 100 games - which are repeated.) Most Japanese games are unreadable to those not fluent in Japanese (it doesn't take a genius to figure that out.) Built-in games also exaggerate. The cartridge is fragile (if dropped, it will break.) Games are often misspelled or missing title screens. Games can also have no copyright dates or different title screens.
Community content is available under
CC-BY-SA
unless otherwise noted.