There are many unlicensed hacks of the PlayStation 2 version of Grand Theft Auto: San Andreas with mostly graphical and musical changes, sometimes replacing cutscenes with videos and changing gameplay a little bit. Some of them are fan-made PC mods stolen by pirates and ported to the PS2. Some of the hacks are possibly from Indonesia, as the game is popular there.
The most famous developer in Latin America as far as these mods are concerned is Geomatrix, a Brazilian modder who creates mods for Pro Evolution Soccer, Grand Theft Auto, and other games, changing only some music and skins.
GTA:SA Dragon Ball
This hack replaces CJ with Vegeta and has some minor graphical changes. Vegeta's model has several errors, most notably in cutscenes.
GTA:SA Wolverine
Replaces the main character with Wolverine and has some minor graphical changes.
GTA Saw
Replaces CJ with Billy the Puppet from the Saw films.
GTA Dubai City
A major graphical hack that changes San Andreas into Dubai. Replaces music.
GTA Kirk Douglas
Replaces the main character with Kirk Douglas.
GTA Supernatural, GTA The Legend, GTA Infinite World, GTA 2012: End Of The World
These four are the same hack with minor differences. Story missions are removed and superpowers are added.[1]
Grand Theft Auto Cidade De Deus, Tropa De Elite, IV
These mods are created by the Brazilian team Geomatrix Games over the PTMG mod, which comes with a mod menu, where you can be immortal, add skills, change the weather and hour, listen to radio to foot, change the character's appearance, watch the cinematic of missions, play missions, etc. Replace CJ's face with Niko Bellic (GTA IV), radios to add music Nu Metal, Cumbias, Salsa, Latin Freestyle, Rap, Hip-Hop, Samba, Pagode, Brazilian Reggae, Funk Carioca, Metal, Hard Rock, Dance, Disco, Ballads, Soft Rock and French Jazz (1976 - 2007), textures of buildings to make them colorful and add Brazilian stores and places,vehicles and their names, billboards changed by Brazilian advertisements and clothes replaced by soccer shirts, like Brazilian Soccer Team, 50 Cent t-shirt, BOPE and Policia Civil uniforms. Los Santos is named as Rio de Janeiro, San Fierro as Belo Horizonte and Las Venturas as Sao Paulo.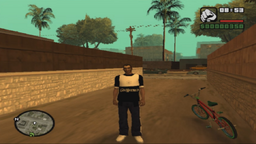 References