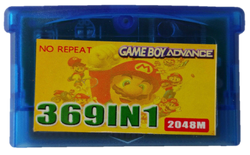 A 369-in-1 is a multicart for the Game Boy Advance released in late 2015.
Overview
The cartridge features 22 Game Boy Advance games, with the other titles being NES games converted to GBA using Pocket NES,in a total of 369 games in 1. The box and cartridge both state there are no repeats, but in reality, over 100 titles are repeated. This is the largest known GBA multicart to date, which the packaging also boasts by putting its size (2048M) on the label.
The Game Boy Advance titles included were chosen mainly by popularity. Some titles include Pokémon FireRed and LeafGreen, Mario and Luigi: Superstar Saga, Mario Kart: Super Circuit, and all four Super Mario Advance games. The NES games were seemingly picked at random from GoodNES, a complete set of every NES game currently dumped and available on the internet. The games are in random sections, but the sections themselves have the games in the exact order of GoodNES. The names of the games, however, have been altered to what seem to be mistranslated, presumably from a Chinese version of the cart. Popular titles like the original Super Mario Bros. are missing due to this bizarre strategy. This also means inappropriate hacks and sometimes flat-out broken games are included in the compilation. Some noteworthy titles include:
Super Contra 8 (both Super Contra 8 and Super Contra 7 are included, despite being the exact same game).
Harry Story (bootleg Wacky Races hack; also listed as Harry potter a).
Kart Fighter (listed as Star big fights and The game Stars the big).
MegaFag (debatably the most offensive of the inappropriate hacks; listed as Rockman 6, the original title of the unhacked game).
MegaCrap (another offensive/inappropriate hack; listed as Rockman 5, also the original title of the unhacked game).
Druggy Final Fight (offensive/inappropriate hack of Mighty Final Fight; listed as The final combat).
Jurassic Boy 2 (listed as Dinosaur Boy).
Double Dragon IV (Target: Renegade hack)
Dance Xtreme - Prima (listed as Dance dance revolution).
Domkey Kong (bootleg Tiny Toon Adventures hack; listed as Donkey kong).
Duck (Listed under Duke nukem)
Drac's Night Out (prototype NES title that never received a retail release; listed as The night daydream).
Many fan-made Super Mario Bros. hacks, such as Kirby's Adventure 2 (listed as Kirby's Adventure 3), Luigi Bros. (listed as Mary Louis 4), Excite Mario Bros. (listed as Super Mario exe), and Giabbit (listed as Wario adventure).
Full list

Titles are listed by name on the menu, with supplemental or clarification information following
Pokemon FireRed
Pokemon Emerald
Pokemon LeafGreen
Pokemon Ruby
Pokemon Sapphire
Super Mario Advance
Super Mario Advance 2 Sup
Super Mario Advance 3 Yos
Super Mario Advance 4 Sup
Mario Kart Advance
Mario and Luigi-Supersta
Mario Vs. Donkey Kong
SPIDERMAN 3
SUPER CONTRA 2014 (Contra Force, must be started with A button)
Power Rangers Dino Thund
Road Rash (Road Rash Jailbreak)
Moto GP
Midways Greatest Arcade
Gundam Seed-Battle Assau
Cartoon Network -Speedway
WWE ROAD TO WRESTLEMANIA
FIFA 97 International So (Hack of Tecmo World Cup)
Super Arabian
Double Dragon
Double Dragon II
Demon Sword
Double Dragon IV (Hack of Target: Renegade)
Fist of the North Star
Mission - Impossible
Rainbow Islands
Flipull - An Exciting Cu
Super Contra
Super Contra 8 (Super Contra 7 title hack)
Super Contra II (Contra with 99 lives)
Super Contra 7
Super Spy Hunter
Road Racer 2 (Rad Racer II)
FC Genjin - Freakthoropu
Ms. Pac-Man
Happy Birthday Bugs (Japanese version of Bugs Bunny's Birthday Blowout)
King Kong 2
Donkey Kong 3
Jungle Book, The
Fudou Myouou Den (Demon Sword Japanese version)
Tetris
Rally Bike
Power Soccer
Phantom Fighter
Cross Fire
Dough Boy
RoboCop 4 (Robocop 3)
Iron Tank
Highway Star
Mad Max
Gyrodine

Night Arrow

Shinobi (Tengen)
Side Pocket
Mappy
Ikki
Robot Warrior (RoboWarrior)
Ganbare Goemon 2
Excitebike
Joust
Spy Hunter
Datsugoku (P.O.W.: Prisoners of War Japanese version)
Street Gangs (River City Ransom European version)
Taito Chase H.Q.
Power Rangers 2 (Kyōryū Sentai Zyuranger title hack)
Kirbys Adventure (French)
Garfield - A Week of Gar
Karate Kid, The
Jurassic Park
Dragon Fighter (Natsume game, not [[Dragon Fighter))
Megaman
Megaman II
Hudsons Adventure Island
Hudsons Adventure Island (Adventure Island II)
Hudsons Adventure Island (Adventure Island III)
Life Force
Front Line
Ikari III
Ikari Warriors
Spartan X 2
Shadow Warriors (Ninja Gaiden European version)
Mighty Bomb Jack
Lethal Weapon
Star big fights (Kart Fighter)
Game macross (Gradius)
Lonely warrior (Kickmaster)
Ice adventure (Kickle Cubicle)
Angel's anger (Kid Icarus)
The balloon boy adventu (Kid Klown in Night Mayor World)
Boy Ninja Fujimaru The (Kid Niki: Radical Ninja)
Donkey Kong 2 (King Kong 2 again)
Kirbys Adventure 2 (Kirby's Adventure in French again)
Kirbys Adventure 3 (Kirby's Adventure 2, Super Mario Bros. hack)
Kirbys Adventure (Kirby's Nuts, Nuts & Milk hack)
Rockman 2 (Koakman 2, Mega Man 2 hack)
CAPTAIN TSUBASA (Konami Hyper Soccer)
The apache helicopter (Gyrodine again)
The powerpuff girls (The Krion Conquest)
Super Mario 2 (Kunio in Fantasy Land, Super Mario Bros. 2/USA hack with Kunio-kun characters)
Nintendo World Cup
Escape From Hell (Kuzu, Binary Land hack)
The tower of death (Kyoro-chan Land, Japanese version of Castelian)
The ultimate tiger (Kyūkyoku Tiger, Japanese version of Twin Cobra)
Fly mary back (Hack of Gradius that puts Luigi's head on the ship)
Vietnam war (The Last Starfighter)
The powerpuff girls blu (Layla)
The legendary dragon (Legendary Wings)
Life Force (again)
Lethal Weapon (again)
Dream adventures (Lil Stoner, a drug-themed hack of Little Nemo)
God stole jack (Lode Runner)
Louis Christmas (Luigi and the Christmas Quest, Super Mario Bros. hack)
Louis new adventures (Luigi and the New Quest, Super Mario Bros. hack)
Mary Louis 4 (Luigi Bros., Super Mario Bros. hack)
Mario vs Louis (Luigi Mario: Stomp on Brothers Head, Super Mario Bros. hack)
Mary lost journey (Luigi's First Quest: The Search for Mario, Super Mario Bros. hack)
Louis fantasy trip (Super Mario Bros.: Luigi's Training, Super Mario Bros. hack)
9-ball pool (Lunar Pool)
Super Mary a (M Mario, Super Mario Bros. hack)
Crazy city (Mad City, Japanese version of The Adventures of Bayou Billy)
Plateau war (Mad Max again)
Magical Jone (Magic John, Japanese version of Totally Rad)
Ghosts and Goblins
Super tank war (Making Love, Battle City hack)
Terminator (Time Diver: Eon Man)
Happy pigs (Mappy again)
defence works (Defender II)
Mario and yoshi (Japanese version of Yoshi)
Super Mario 16 (Mario 16, Hack of Joe & Mac with Mario)
Super Mary 2000 (Untitled Super Mario Bros. hack)
Mario adventure island (Mario themed hack of Takahashi Meijin no Bōken Jima, Japanese version of Adventure Island)
Mario and yoshi 10 (Mario to Luigi, Mario themed hack of Nuts and Milk)
The bomb Mario (Mario themed Mighty Bomb Jack hack)
Mario brothers
Time machine (Mario's Time Machine)
Bounce Mario (Untitled Super Mario Bros. hack)
Playing paper boy (Matendōji, Japanese version of Conquest of the Crystal Palace)
brade warrior (Max Warrior, Japanese version of Isolated Warrior)
McDonald's boy (MC Kids)
Puzzle Bobble (Untitled Bubble Bobble hack with profanity in story scenes)
Adventures in the arcti (Untitled Kickle Cubicle hack)
Landing strikes back (Mechanized Attack)
Rockman 5 (Megacrap, a profane hack of Mega Man 5)
Rockman 6 (Megafag, a profane hack of Mega Man 6)
Rockman (Mega Man)
Rockman exe (Mega Man: Wily's Conquest, a Mega Man hack)
Rockman 1997 (Untitled Mega Man 5 hack)
Rockman 2 (Mega Man 2)
Rockman 3 (Mega Man 3)
Rockman 4 (Mega Man 4)
Maze island (Kickle Cubicle again)
The skateboard boy (Menace Beach)
Magic Bubbles (Mermaids of Atlantis)
Mechanical animals (Metal Flame: Psybuster, Japanese version of Metal Mech)
metal storm
Steel tanks (Metals Tank, a Battle City hack)
Chrono Cross (Metro-Cross)
Swat 2000 space and tim (Untitled Metroid hack)
Mickey Mouse
Mickey Mouse 3
Mickey Mouse 4 (Mickey's Adventures in Numberland)
Surfing Mickey (Mickey's Safari in Letterland)
Mig 29 fighter' (MiG-29: Soviet Fighter, but locks up after Codemasters logo)
Bomberman (Mighty Bomb Jack)
street fighter (Mighty Final Fight)
Mario Fantasy (Mikamari 1, a Super Mario Bros. 2 (Japan) hack)
Assault Mission (Dǔ Shén - a select screen with three choices - Dǎodàn Tǎnkè, Mǎ Lì Yīshēng, and Dàn Zhū Tái. Only the first one, a Battle City hack, functions. Presumably, the other two are Dr. Mario and Pinball, respectively)
impossible mission (Mission: Impossible again)
Guerilla War (Mission Cobra)
Clever ikkyu (Mitsume ga Tōru)
Immortal mirror legend (Mônica, a Chūka Taisen hack starring Turma da Mônica characters)
Pocket monsters (Monsters in my Pocket)
Monster party
Supe tank (Great Tank, Japanese version of Iron Tank)
Magical elves (Gremlins 2: The New Batch)
The magical Legend of t (The Guardian Legend)
Middle East War (Guerilla War)
Western cowboy legend (Gumsmoke: A Parody, a Gun.Smoke hack)
Passion road race (Gun-Dec, Japanese version of Vice: Project Doom)
Fire Fight (Gun-Nac)
Apache Helicopter (Gyrodine again)
Soviet - made fighter j (Gyruss)
MEGAMAN 3 (Hackman 3: Dr. Wily's MESS, a Mega Man 3 hack)
Magic brothers adventur (Hana no Star Kaidō)
Bugs Bunny's story (Happy Birthday Bugs again)
Happy brother (A Boy and His Blob: Trouble on Blobonia)
Harry Potter a (Harry Story again)
Rubiks Cube (Hattris)
fortifications (Defender II again)
Amazing motorcycles (Excitebike again)
Big Birds dream (Untitled Joust hack)
Winds of War (Heavy Barrel)
Donkey 3 (Donkey Kong 3 again)
front line assault (Zhòng Quān, another menu but with only one visible (and functional) option - Jìnrù - the same set of Battle City hacks listed under Assault Mission)
The war in space (Hector '87, Japanese version of Starship Hector)
Monster Adventures (Heisei Tensai Bakabon)
Katys World (Hello Kitty World)
Super Mario the night s (Hermes E Renato, a hack of Super Mario Bros.)
Campus Double Dragon (Double Dragon again)
Happy Mario (Hi Mario Bros., a Super Mario Bros. hack)
Demon island adventure (Higemaru Makaijima: Nanatsu no Shima Daibōken)
MEGAMAN 2 (Untitled Mega Man 2 hack that gives Mega Man a much higher jump)
Rockman rockman speed (Untitled Mega Man hack that makes Mega Man's walk speed much faster)
Highway Star (again)
Super Mario 4 (Untitled Super Mario Bros. hack)
Super Mario 5 (Untitled Super Mario Bros. hack with the same graphical changes as Super Mario 4 but with different levels)
Hell to kill the magic (Holy Diver)
Home Alone (Home Alone 2: Lost in New York)
Killer Instinct (Hon'nō, a hack of Athena)
Hook
Murder plan (Hostages, Japanese version of Rescue: The Embassy Mission)
Expedition to Earth (Hottāman no Chitei Tanken)
Adventure Island (again)
Adventure Island 2 (again)
Adventure Island 3 (again)
Passion for motorbikes (Excitebike again)
The Gates of Hell (Untitled Kid Icarus hack)
Glacier Safari (Ice Climbers)
Ice Super Mario (Super Mario Bros.: Ice Mario, a Super Mario Bros. hack)
Professor devil (Ice Takes On Joe Don Baker, a Warpman hack)
Soldiers raided 3 (Ikari III again)
Soldiers raided 2 (Ikari Warriors again)
Mother (Dig Dug)
Wilderness bill custome (Ikki)
Crazy Bomber (The Imperial Palace Moat Story, a Bomberman hack)
Mission Impossible (The Incredible Crash Dummies)
Initial D (Initial D-themed hack of City Connection)
The Powerpuff Girls (Insector X)
Iron Tank (again)
Lone adventurer (Isolated Warrior again)
Jackie Chan's Action Ku
Escape operation (Jail Bait, a risqué Pac-Man hack)
James Bond 007 (James Bond Jr.)
Campus king of fighters (Double Dragon II again)
Air Adrenaline (Jetfire, a Transformers-themed Chō Jikū Yōsai Macross hack)
Hospital Escape (The Jetsons: Cogswell's Caper)
Jigoku Gokuraku Maru (Japanese version of Kabuki: Quantum Fighter)
Rapids surfing (Muppets Adventure: Chaos at the Carnival)
Bound for Glory (JJ: Tobidase Daisakusen Part II)
Super Mario 10 (Super Mario Bros.: Johnnys Quest, a Super Mario Bros. hack)
The Tree of Life (Joshua & the Battle of Jericho)
Aircraft City (Journey to Silius)
seventh heaven (Joust again)
Donkey Kong Adventures (JuJu Densetsu, Japanese version of Toki)
The Faerie Glen (Jumpin' Kid: Jack to Mame no Ki Monogatari)
Super Mario 8 (Untitled Super Mario Bros. 2 (Japan) hack)
Jungle Adventure (The Jungle Book)
Dinosaur Boy 2 (Jurassic Boy 2)
Dino Crisis (Jurassic Park)
Scary Mario (Justin and Friends, a Super Mario Bros. hack)
Adventure island 4 (Justin's Adventure Island, an Adventure Island hack)
Altered Beast (Jūōki, Japanese name for Altered Beast)
MetalStorm (again)
The Challenge (Yami no Shigotonin: Kage, Japanese version of Shadow of the Ninja)
The Challenge 2 (The Legend of Kage)
Happy dojo (Kaiketsu Yancha-maru, Japanese version of Kid Niki: Radical Ninja)
Happy dojo 2 (Kaiketsu Yanchamaru 2: Karakuri Land)
Happy dojo 3 (Kaiketsu Yanchamaru 3)
Star forces (Unnamed Star Force hack)
Hell and heaven (Kakefu-kun no Jump Tengoku, Speed Jigoku, Japanese version of Kid Kool)
Turtle legend (Kame no Ongaeshi: Urashima Densetsu, Japanese version of Xexyz)