Guangzhou Li Cheng Industry & Trade Co

Winsen & Li Cheng logo.
Origin
Guangzhou, China
Years
Mid 90's-Present
Consoles
Famicom, Mega Drive, Game Boy
Aliases
Winsen, Xing Xing Technology (星星科技)
Guangzhou Li Cheng Industry & Trade Co
(广州市骊城工贸有限公司), also known as
Xing Xing Technology
(星星科技) and
Niutoude
, formerly
Guangzhou Tianhe Yongsheng Co
(广州市天河永盛有限公司) and
Winsen
is a Chinese publisher of Mega Drive and Game Boy Color games.
Most of Li Cheng's games discovered so far appear to be either re-releases of Taiwanese originals (sometimes with Simplified Chinese text replacing the original Traditional) or Chinese translations of Japanese games, but many remain unaccounted for.
Sega Mega Drive
Edit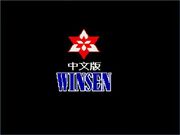 Most of Li Cheng's Sega Mega Drive games were released under the Yongsheng name. Their Chinese translated Japanese games can usually be distinguished by the "Winsen" logo replacing Sega's.
Mega Drive games include:
Please look up the list for details. (Guangzhou Li Cheng Industry & Trade Co/Mega Drive games List)
Game Boy Color
Edit
Game Boy games were released under the Li Cheng and Xing Xing Technology names, usually with a CBA*** serial number. Most modify the "Nintendo" boot logo to read "Niutoude", which was actually trademarked by Li Cheng in China (preserving same font).
Game Boy games include:
Soul Falchion (developed & originally published in Taiwan by Vast Fame)
Final Fantasy X: Fantasy War (developer unknown, originally published in Taiwan by SKOB)
Rockman DX3 (developed & originally published in Taiwan by V.Fame as Zook Hero 2)
Crazy Richman 2 (developed & originally published in Taiwan by V.Fame)
Heroic Sword (英雄剑) (originally published in Taiwan by Hitek)
Digimon D-4 (developed by SKOB, Li Cheng's ver renames it to Pearl Pokémon II and changes SKOB to SPEED. Published by NT.)
Please look up the list for details. (Guangzhou Li Cheng Industry & Trade Co/Game Boy Color games List)
External links
Edit