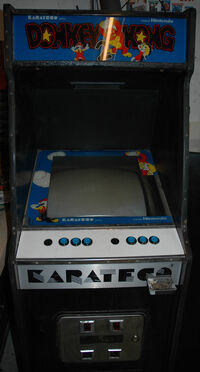 Karateco was an arcade label of Stambouli Frères SA[1] that produced and distributed various arcade games, both licensed and unlicensed (or unathorized), in France and other countries. Not much is known about any of their machines, and only three of their games are emulated.
Pac Pac (hack of PAC-MAN, unlicensed)
Donkey Kong (licensed)
Donkey Kong 2 (claims to be licensed, but no official Donkey Kong 2 arcade game exists; it is thought to be a hack of Donkey Kong)
Asteroid (unlicensed)
Hopper (hack of Frogger, unlicensed)
DIG DUG (licensed)
Kamikaze (hack of Galaxian, unlicensed)
Rally Z (hack of Rally-X, unlicensed)
Rampage (licensed)
Crush Roller (unlicensed)
Scramble (unlicensed)
Time Pilot (licensed)
Amidar (unlicensed)
Jungler (hack of Nibbler, unlicensed)
Moon Patrol (unlicensed)
Moon Cresta (unlicensed)
Frisky Tom (licensed)
Spider (licensed)
Borderline (unlicensed)
Battle of Atlantis (unlicensed)
Naughty Boy (unlicensed)
Van-Van Car (original game; distributed in the US inside the ICade 60-in-1)
Uniwars (original game; distributed in the US inside the Ghostmuncher Uniwars 2-in-1)
May Day (original game)
The Double (original game)
Gin Rummy (original game)
Billiard Americain (original game)
Super Double (original game)
DCA (?)
Taskete (clone of Speak and Rescue by Sun Electronics (Stratovox by Taito in the U.S.)
Community content is available under
CC-BY-SA
unless otherwise noted.