Menace Beach
Publisher
Color Dreams, Hacker International (Asia), Wisdom Tree
Developer
Color Dreams
Console
NES
Date
1991
Engine
Color Dreams side scroller
Sound engine
Color Dreams
Alternate names/hacks
Sunday Funday, Miss Peach World 1, Mr.Assy (unreleased prototype)
Menace Beach is a game originally released for the NES by Color Dreams in 1990 and, like all Color Dreams games, was not officially licensed by Nintendo.
Menace Beach
According to the game's instruction manual, the player controls a skateboarding hero whose girlfriend, Bunny, has been kidnapped by Demon Dan (most likely a reference to Dan Burke, an artist at Color Dreams). An intro screen shows a shackled Bunny pleading for the player's help.
In the game, the player must use his skateboard and any objects he finds (such as balloons, frogs, bombs, and bottles), to defeat ninjas, clowns, Elvis impersonators, and disgruntled dock workers before finally confronting the villainous Demon Dan. Meanwhile, Bunny's clothes rot away between levels until by the end she is left in nothing but her underwear.
Menace Beach was rereleased as part of the Maxivision 15-in-1 multicart.
Miss Peach World 1: Super LA Cop
A Menace Beach hack credited to Dan Burke (although it's unknown whether he actually had a role in development) and released by Hacker International in 1991. In this hack, the game was translated to Japanese and Bunny was replaced with pornography.
Sunday Funday
A 3-in-1 multicart released by Wisdom Tree in 1995, the last game produced by them and the last NES game released in North America. This hack replaces Bunny with a Sunday school teacher, and the ninja and Elvis impersonator enemies were also replaced.
The other two options on the menu are Fish Fall (Free Fall with Bible quotes added) and an 8-bit rendition of The Ride by 4Him.
Trivia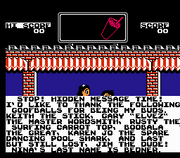 The game was originally planned to have a jet ski bonus round which was not included in the released version.
Many of the Menace Beach characters were based on Color Dreams staff.
There's a hidden message in Menace Beach which is accessed by first beating the game. When the ending sequence ends and the message "PRESS A TO REPLAY SCREEN, PRESS START TO RESTART GAME" appears, press and hold Down + Left + Select. While holding these buttons, a sound will play 10 times, then 5 times in row. Immediately, the message will appear at the bottom of the screen.

There are two ways to skip levels:

At the title screen, press Left, Select, Left (x6), Up (x6), Right (x6). White parts of the screen should flash red every time you press the right button (aside from pressing Left for the first time). A sound will play if the code is entered correctly. Finally, press B to trigger the cheat and the message "YOU BIG CHEATERHEAD!" will appear and another sound will play. Now you can skip the level you're in by pressing B + Select during the game.
First, start a new game. Then, press Up + A + B on Controller 1 and Up on Controller 2 at the same time. If done correctly, you will be sent back to the title screen. Like above, press B + Select during the game to skip levels.[1]
References