Pegasus was a video game system sold in Poland, Serbia, Bosnia and Czech Republic. It was a hardware clone of the Nintendo Famicom aka Nintendo Entertainment System (NES), also called a Famiclone.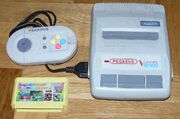 Processor
8-bit MOS 6502 1,79 MHz
Video
Clock
5,37 MHz
Resolution
256 x 240
Color Palette
25 on screen
(out of 64 possible)
Standard
NTSC ("forced" to PAL standard, 50 Hz refresh rate)
Sound
5-channel mono
1 channel noise
1 PCM
3 channels for sounds
Media
ROM cartridge
(Nintendo 60-pin equivalent)
Background
Edit
This particular Nintendo-clone was hugely popular in Poland, Serbia and Bosnia where it has gained cult status, and is still widely available on auction websites and flea markets. The console was sold in the Czech Republic, where the IQ-502 model was popular. [1]
The system was manufactured in Taiwan and sold in Poland by BobMark International, and was built to resemble Nintendo Famicom console. Pegasus, like most known Famicom clones, was compatible with 60-pin Famicom cartridges, and partially compatible with some NES games, which could be played using a special converter. Original Nintendo games weren't popular however, due to raging piracy and lack of officially licensed products on the market. Majority of the games sold with and for the system were cheap pirated copies, manufactured mostly in Russia and China. Games for Pegasus are widely available in Poland to this day, mostly on street markets and in small toy stores.
The typical retail set included the system, two detachable controllers (both with "turbo" buttons, which meant 4 buttons in total; 6-button controllers also existed), a light gun (very similar in design to NES Zapper), power supply and RF cable. Console had a built-in RF modulator, as well as audio-video RCA connectors. The system itself didn't include any built-in games, but was bundled with a pirated multicart labelled "Contra 168 in 1", which contained a few of the best-known NES titles, like Contra, Super Mario Bros. and Tetris, listed multiple times with slight variations. Most of the games had a "trainer" feature, which allowed the player to adjust the number of lives, and even the starting level of the game.
Console models:
Nintendo Compatible-a model of a console without a name Pegasus often called a trial sales party[2]
Pegasus MT777-DX-sold from 1992
Super Pegasus MT888-DX-sold from 1993.There is a Hoop inscription on the boxes (a subsidiary of Bobmark)[3]
Super Pegasus MT999-DX-another version of the above console also with the Hoop logo.[4]
Pegasus IQ-502-released in 1994.
Pegasus Game Boy-Game Boy clone sold since 1993. There were two versions: the first one exactly resembling Game Boy and the second model called 3000B.[5]
Power Pegasus-the console being a copy of Sega Mega Drive released in 1995.
Pegasus for NES cartridges
Edit
There were several consoles that could launch the original NES cartridges rather than Famicom as in Poland. An example is the Indonesian Pegasus MT-999DX sold by the Spica Club. [6]
End of Pegasus
Edit
In 1994 there were a few changes in Polish law and Bobmark took steps to make Pegasus an 'independent system' by selling games only from producers who released their NES games without the permission of Nintendo, for example Sachen.
Nintendo took legal actions against the system's importer and distributor, right after officially establishing sales of licensed Nintendo products on Polish market in 1994 when the distribution was started by Entertainment Systems Poland.
To fight Nintendo, Bobmark made an agreement with Sega for sales of their products.The last advertisement of Pegasus appeared in 1996, which means the end of the console, especially since the company this year released Sega Saturn and wanted to focus on the fight against the Playstation that was released in the same year.[7]
Popularity
Edit
In the early 1990s, the Pegasus system gained massive popularity in Poland, probably due to the fact that until late 1990s there was no official distributor of Nintendo products in Poland. The Pegasus consoles were mass-marketed by most of the major and smaller electronic stores, where buyers even received warranty cards for the product. Numerous VHS rentals offered an option to rent or exchange Pegasus cartridges, as well as entire systems. Pegasus and its revisions received a wide coverage in Polish video game press. This, along with the system's surprisingly high reliability led to a false claim that Pegasus was an "official" video game system manufactured by a "major" company, and as such was considered by many to be an official Nintendo product. To meet its growing popularity, a number of obviously pirated NES games were reviewed on regular basis by Top Secret, a major Polish video games magazine. Pegasus was even officially advertised in press and on TV. See a few of their ads here [1].
References
Edit
External links
Edit
Community content is available under
CC-BY-SA
unless otherwise noted.