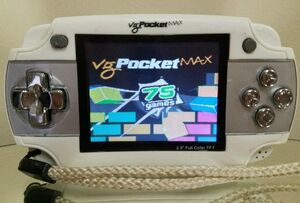 The Pelican VG Pocket is a discontinued handheld series manufactured by JungleTac,[1] and they were distributed by Pelican Accessories (a brand of Performance Designed Products).
In 2008, the Caplet and Tablet models were finalists in the International Design Excellence Awards; they were designed by Stuart Karten Design, a Los Angeles-based industrial design firm.
Handhelds
Five different VG Pocket handhelds were created, all of which have a select number of built-in games. These games are mostly clones and hacks of NES and classic arcade games.
Reference