The Photon System is an 8-bit arcade board made in Russia. It was manufactured by someone under the alias of Union and with the Russian Ministry of Culture between the late 80s through early 90s.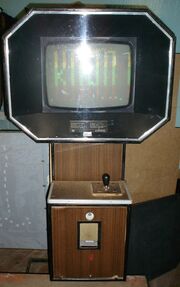 System Details
Compared with an original Arcade system called TIA MC-1 from Russia, which uses more proper hardware, the Photon System relies on hardware cards based foreign PCs and foreign games. All of them have their boot ROMs scrapped in favor of a single ROM chip including the BASIC interpreter plus the game itself.
The original Photon System was followed by Photon IK02, based on the Leningrad-1, an Russian clone of ZX Spectrum 48k.
Technical Specifications
The first version of the system is based around the PK8000 computer, an 8-bit Russian computer with hardware close to the one found in a standard MSX1 computer, with such known hardware as:
CPU: Intel 8080 (1,78 Mhz)
Sound: DAC
Video resolution: 288x224 (50Hz)
Game List
| Name | Native name | Notes |
| --- | --- | --- |
| Klad / Labyrinth | Клад / Лабиринт | Also on PK8000. |
| Phyton | Питон | Also on PK8000. |
| Tetris | Тетрис | |