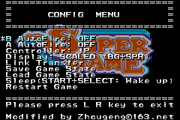 PocketNES is a freeware (100% free) NES emulator for the Game Boy Advance and, at the same time, the most capable one on this handheld. It was originally developed for hobbyists to use with their own ROM collections and rewritable flash cartridges, but a few game publishers ended up releasing multicarts of their old NES games for GBA, as did pirates. They didn't need to ask permission because the PocketNES developers had released the emulator to the public domain. Pirates would often change the name of the program from PocketNES to VisualNES.
Overview
Since its creation, PocketNES had a lot of features and addons, with, perhaps, the most important ones being a huge range of mapper support and link cable play.
Usage in Pirate Multicarts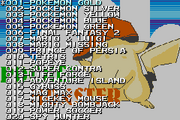 Among the pirates, this program is used in the following way:
A couple of "native" Game Boy Advance games thrown in, with removed intros. The pirates insert ROM selection into the GBA's boot process much as the warez scene inserts its own intros.
The multicarts also get a lot of hacks, mostly pirated, but sometimes freeware titles are included as well.
Several pirate originals like Somari or Pocket Monster may be included.
The compilation includes no more than 40 original games without cloning, like in the 10000000-in-1 multicart.
Due to the larger memory capacity of GBA cartridges and the mapper emulation of PocketNES, included games need not be the smaller NROM-based games found on most larger NES multicarts.
The SRAM is known to be unstable on the cartridges with these multicarts, with savegames appearing and disappearing in most unexpected cases.
Single-Game PocketNES cartridges
PocketNES is often bundled with a single NES/Famicom ROM and packaged as a new or unique GBA game. Both licensed and unlicensed titles are used, and often the name used on the packaging may differ from the actual game itself. Many of the ROMs used are an existing mapper hack, or normal ROMs with a small change such as credits obscured or a new title screen.
Gallery
References