Retro FC

Title screen.
Release date
2018
Distributor(s)
Anbernic
System
VT02
Included games
168 / 360 / 500
Product ID no.
Retro FC
The Retro FC is a VT02-based handheld Famiclone system manufactured & distributed by Anbernic.
The initial version included 168 built-in games, but subsequent "plus" versions were released with a different 168 game set, and eventually expanded 360-in-1 and 500-in-1 sets, although the 168-in-1 versions remain available.
The design and name has been widely cloned, with many copies falling under the Sup Game Box branding.
Overview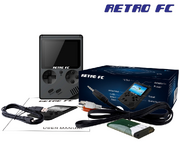 The Retro FC is shaped similar to a Game Boy Pocket and has a striking resemblance to the Retro Mini. Multiple color variants are available, including black and white. It has a 3" backlit color LCD screen, four action buttons (two of which are turbo buttons), three additional buttons (start, select, and reset), a directional pad, a power switch, a volume control, a single speaker, and an A/V-out port.
The Retro FC is powered by a 600mA lithium-ion rechargeable battery (similar to a Nokia BL-5C type battery). The distributor claims its battery life is 6 hours. Its box includes the Retro FC game system, an AV cable, a user manual, and a USB cable.
The system uses a 128Mbit TSOP56 M29W128GL NOR flash memory chip soldered directly to the board.
Game List
| Number | Game | Origin | Notes |
| --- | --- | --- | --- |
| 1 | Super Mario Bros. 2 | Famicom | NA version |
| 2 | Super Mario Bros. 3 | Famicom | Japanese 2-Hit Version |
| 3 | Super Mario World 9 | Unlicensed | Hack of Adventure Island 2 |
| 4 | Super Mario 14 | Unlicensed | Hack of Kaiketsu Yanchamaru 3: Taiketsu! Zouringen |
| 5 | Super Mario Bros 6 | Unlicensed | Hack of Tiny Toon Adventures |
| 6 | Dr. Mario | Famicom | |
| 7 | Mario Bros. | Famicom | |
| 8 | Mario Is Missing | Famicom | |
| 9 | Mario's Time Machine | Famicom | |
| 10 | Super Mario Bros. | Famicom | |
| 11 | Sonic | Unlicensed | Hack of Sonic 3D Blast 5 |
| 12 | Aladdin 3 | Unlicensed | Hack of Magic Carpet 1001 |
| 13 | GI Joe | Famicom | |
| 14 | Mega Man 3 | Famicom | |
| 15 | Tekken 3 | Unlicensed | Hack of Tekken 2 |
| 16 | Tmnt2 | Famicom | NA version of Teenage Mutant Ninja Turtles 2: The Arcade Game |
| 17 | ADVENTURE ISLANDND 2 | Famicom | Adventure Island 2 |
| 18 | Angry Bird 2 | Unlicensed | Hack of New Zealand Story |
| 19 | CHIP DALE 2 | Famicom | Chip & Dale Rescue Rangers 2 |
| 20 | Contra | Famicom | |
| 21 | contra force | Famicom | |
| 22 | DOUBLE DRAGON 3 | Famicom | |
| 23 | JackieChan | Famicom | |
| 24 | Little Nemo-Dream Master | Famicom | |
| 25 | Mighty Final Fight | Famicom | |
| 26 | Mitsume Ga Tooru | Famicom | |
| 27 | Moster in my pocket | Famicom | |
| 28 | Ninja Gaiden 3 | Famicom | |
| 29 | Plants Vs Zomb | Unlicensed | Original port of mobile game |
| 30 | Pocket Monster | Unlicensed | Original platforming game by Gamtec |
| 31 | Power Blade 2 | Famicom | |
| 32 | SNOW BROS | Famicom | |
| 33 | Spider Man | Famicom | |
| 34 | SUPER CONTRA | Famicom | |
| 35 | Tom & Jerry | Famicom | |
| 36 | World Cup | Famicom | |
| 37 | CRAZY CASTLE | Famicom | The Bugs Bunny Crazy Castle |
| 38 | Pac-Mania | Famicom | |
| 39 | RBI Baseball | Famicom | |
| 40 | World Cup Soccer | Famicom | |
| 41 | *1942 | Famicom | |
| 42 | ADVENTURE ISLANDND | Famicom | Adventure Island |
| 43 | Adventures of Dino Riki | Famicom | |
| 44 | Adv of Lolo | Famicom | Adventures of Lolo |
| 45 | Adv of Lolo 2 | Famicom | Adventures of Lolo 2 |
| 46 | Angry Bird | Unlicensed | Hack of Moai-Kun |
| 47 | Angry bird 3 | Unlicensed | Original port of Angry Birds |
| 48 | ARKANOID | Famicom | |
| 49 | ASTRO ROBO SASA | Famicom | |
| 50 | BABEL | Famicom | |
| 51 | Badminton | Famicom | Super Dyna'mix Badminton |
| 52 | BENTHAL | Unlicensed | Hack of Pyramid |
| 53 | B-Wings | Famicom | |
| 54 | Dig Dug 2 | Famicom | |
| 55 | ELEVATOR ACTION | Famicom | |
| 56 | Exed exes | Famicom | |
| 57 | F1-Race | Famicom | |
| 58 | FLIPULL | Famicom | |
| 59 | GOONIES | Famicom | |
| 60 | GRADIUS | Famicom | |
| 61 | GYRODINE | Famicom | |
| 62 | Gyruss | Famicom | |
| 63 | Hello Kitty | Famicom | |
| 64 | Ice Hockey | Famicom | |
| 65 | KUNG FU | Famicom | |
| 66 | Mickey Mouse | Famicom | Mickey Mousecapade |
| 67 | MS Pac-Man | Famicom | |
| 68 | MUSIC MOMENT | Unlicensed | Original catch falling blocks game |
| 69 | Onyanko Town | Famicom | |
| 70 | Penguin Kun Wars | Famicom | |
| 71 | POOYAN | Famicom | |
| 72 | Pro Wrestling | Famicom | |
| 73 | Route 16Turbo | Famicom | |
| 74 | Seicross | Famicom | |
| 75 | SLALOM | Famicom | |
| 76 | Soccer | Famicom | |
| 77 | Solomon's Key | Famicom | |
| 78 | Son Son | Famicom | |
| 79 | SPELUNKER | Famicom | |
| 80 | Super Chinese | Famicom | |
| 81 | Track Field | Famicom | |
| 82 | Transformers | Famicom | |
| 83 | TwinBee | Famicom | |
| 84 | VOLGUARD 2 | Famicom | |
| 85 | Volleyball | Famicom | |
| 86 | Wrecking Crew | Famicom | |
| 87 | 10yard fight | Famicom | |
| 88 | 4mahjong | Famicom | |
| 89 | antarctic advent | Famicom | Antarctic Adventure |
| 90 | ARABIAN | Famicom | Super Arabian |
| 91 | balloon fight | Famicom | |
| 92 | Baseball | Famicom | |
| 93 | BATTLE CITY | Famicom | |
| 94 | Battle city 2 | Unlicensed | Hack of Battle City |
| 95 | Billiard | Famicom | |
| 96 | BINARY LAND | Famicom | |
| 97 | Bird Week | Famicom | |
| 98 | Black white chess | Famicom | |
| 99 | BOMBER MAN | Famicom | |
| 100 | Bomb Sweeper | Unlicensed | Original homebrew arcade game made in Norway |
| 101 | Box world | Unlicensed | Original port of Sokoban |
| 102 | Brush roller | Unlicensed | Hack of Crush Roller |
| 103 | BURGER TIME | Famicom | |
| 104 | Chack'n pop | Famicom | |
| 105 | CIRCUS CHARLIE | Famicom | |
| 106 | City connection | Famicom | |
| 107 | Clu clu lan | Famicom | Clu Clu Land |
| 108 | CONTE ENEGY | Unlicensed | Hack of Lode Runner |
| 109 | DEFENER II | Famicom | Defender II |
| 110 | Deflower | Unlicensed | Hack of Lode Runner |
| 111 | Devil world | Famicom | |
| 112 | Dig Dug | Famicom | |
| 113 | Donkey Kong | Famicom | |
| 114 | Donkey Kong 3 | Famicom | |
| 115 | Donkey Kong Jr. | Famicom | |
| 116 | Donkey Kong Jr math | Famicom | |
| 117 | Door door | Famicom | |
| 118 | Excitebike | Famicom | |
| 119 | Exerion | Famicom | |
| 120 | Field combat | Famicom | |
| 121 | Formation 2 | Famicom | |
| 122 | FRONT LINE | Famicom | |
| 123 | GALAGA | Famicom | |
| 124 | GALAXIAN | Famicom | |
| 125 | Glommy chress | Famicom | Hidden Chinese Chess |
| 126 | Golf | Famicom | |
| 127 | Gomoku | Famicom | |
| 128 | Hyper olympic | Famicom | |
| 129 | Hyper sports | Famicom | |
| 130 | Ice climber | Famicom | |
| 131 | Ikki | Famicom | |
| 132 | Jewelry | Unlicensed | Original port of Columns |
| 133 | Joust | Famicom | |
| 134 | Karateka | Famicom | |
| 135 | Levin action | Unlicensed | Hack of Defender II |
| 136 | Lode Runner | Famicom | |
| 137 | Lode Runner2 | Famicom | Championship Lode Runner |
| 138 | Lunar Ball | Famicom | |
| 139 | Macross | Famicom | |
| 140 | Mahjong | Famicom | |
| 141 | Mappy | Famicom | |
| 142 | MILLIPEDE | Famicom | |
| 143 | Muscle | Famicom | |
| 144 | Nibbles | Unlicensed | Original port of DOS game by Damian Yerrick |
| 145 | Night arrow | Unlicensed | Hack of Galaxian that adds cheats |
| 146 | Ninja kun | Famicom | |
| 147 | NUTS MILK | Famicom | |
| 148 | Othello | Famicom | |
| 149 | Pacman | Famicom | |
| 150 | Pinball | Famicom | |
| 151 | Poker | Famicom | |
| 152 | Popeye | Famicom | |
| 153 | Pyramid | Famicom | |
| 154 | Raidon bungeling | Famicom | Raid on Bungeling Bay |
| 155 | ROAD FIGHTER | Famicom | |
| 156 | Sky destroyer | Famicom | |
| 157 | Small mario | Unlicensed | Original slot machine game |
| 158 | Space et | Unlicensed | Hack of Space Invaders |
| 159 | STAR FORCE | Famicom | |
| 160 | Star gate | Famicom | |
| 161 | Tank a 1990 | Unlicensed | Hack of Battle City |
| 162 | Tennis | Famicom | |
| 163 | UFO race | Unlicensed | Hack of F-1 Race |
| 164 | Urban Champion | Famicom | |
| 165 | Warpman | Famicom | |
| 166 | Wrestle | Famicom | Kinnikuman: Muscle Tag Match |
| 167 | Yie ar kung fu | Famicom | |
| 168 | Zippy race | Famicom | |