SM Choukyoushi Hitomi Bangai Hen 2: Maki no Love Love Panic

Title screen.
Publisher
Atmark
Developer
Jap! (EJ Corporation)
Console
Super Famicom
Date
1997
SM Choukyoushi Hitomi Bangai Hen 2: Maki no Love Love Panic (SM調教師 瞳 番外編2 まきのラブラブパニック) is an unlicensed adult Super Famicom game developed by EJ Corporation (under the name Jap!) and published by Atmark.
Overview
[
]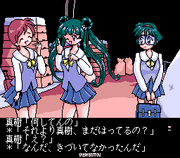 As with its predecessor, SM Choukyoushi Hitomi Bangai Hen, this is an adult point-and-click adventure game involving the protagonist Maki, with several interactive erotic scenes interspersed throughout. The story is divided into five chapters, and there is a password system implemented by using the cursor to select a specific X/Y coordinate on the screen.
In each erotic scene, the player has to select a correct part of the image displayed to raise a "synchronization rate" to 100%.
This game is notable for its graphic content, even for an unlicensed game, which depicts rape, guro, and even human cannibalism.
Story
[
]
The protagonist Maki runs late for school one day, and witnesses a teacher slam the school's entrance gate into a female student, killing her. Soon after, Maki runs into a male student who is also running late. She quickly falls in love with him after he escorts her to a love hotel and takes her virginity.
The next day, Maki runs into a student named Mirika (who looks similar to the character Mirika from the previous game developed by Jap!, Riverse Kids), who claims that she is in a relationship with the male student from earlier. Maki also discovers the teacher she witnessed the previous day masturbating in one of the teacher's offices, and proceeds to turn her into a personal sex slave. After being subjected to a series of pranks, Maki becomes convinced that Mirika is behind them all, and resolves to murder her at school the next day in order to win back her lover.
The next day, after a prolonged chase sequence throughout the school, Maki drugs, rapes and kills Mirika, disemboweling her in the process, and the teacher consumes her corpse.
The next morning, Maki has a dream where the partially desecrated corpse of Mirika claims she is not the male student's girlfriend, and that he only uses girls as sexual objects. After a number of strange phenomena happen to Maki at school, she is suddenly stolen away from the male student by a girl named Shiwori. (The name of the ending involving her (ソーファン) is a reference to the character Ayako Katagiri from Tokimeki Memorial, who appears to have a similar character design). After a sex scene involving Maki and Shiwori, a group of delinquent men appear and gang rape Shiwori, restrain her, then package her in a box and sell her overseas, at Maki's request.
With all the barriers to her lover removed, Maki goes back to the school grounds, only to see the student fall into a pitfall trap he had dug sometime earlier. In a parody of Aesop's fable The Honest Woodcutter, an angel resembling Tsukino Usagi appears and asks Maki which of four different items she dropped. The player can choose one of the four options (Shiwori, Mirika, the lover, or the teacher), the angel herself, or nothing at all by clicking on the background, each of which leads to a different ending.
Credits
[
]
Click to expand.
瞳番外編2
 まきのラブラブパニック
  制作スタッフ
   紹介

ボツネタ

     シヲリ部活全回しツアー
     落ちとどんでんがえしは

制作

     JAP!

設定

     ひよこレイ
     えろばげろみ

原画

     えろばげろみ

CG作画

     えろばげろみ

美術

     えろばげろみ
     迫田逸博(本名)

作画監督

     えろばげろみ

官能脚本

     梅宮貴子
      www.takakonet.com

脚本

     飯野モドキ

演出

     ひよこレイ
     おちこぼれM(学生)

編集

     あるばいたーM(K)

プログラム

     ほーると

音楽

     えろばげろみ
     多分山田

営業

     ハラテック
     株式会社アットマーク

協力
     あきと
     えいたろ


協力
     有限会社イージェー
     コミックピクシィ編集部

監督総指揮

     飯野モドキ
Gallery
[
]
Trivia
[
]
Similar to Super 3D Noah's Ark, this game is one of a few known Super Famicom games to use a top-loading cartridge mechanism in order to bypass the Super Nintendo's CIC lockout chip. The acronym "SEM", which is seen on the back of the box, stands for "Software Editing Machine", which is the name of this system.
The title screen credits this game to Jap! in 1997 and EJ Corporation in 1995. This suggests that this game may have been in development in 1995, but the development was interrupted following the arrest of the head of EJ Corporation that same year, then was resumed under the company name Jap!.
This game shares its music and sound effects with the previous game developed by Jap!, Riverse Kids.
Contrary to what the title implies, there is no character named Hitomi that appears in this game's story. However, after the ending credits finish, clicking on the screen a few times will reveal a hidden CG of Hitomi and one of the other characters from SM Choukyoushi Hitomi Vol. 2.
This game features parodies of several anime and games that were popular at the time, such as Tokimeki Memorial, Sailor Moon, and Neon Genesis Evangelion.[1]
A notice hung in the school's hallway references the in-game advertisement in SM Choukyoushi Hitomi Bangai Hen calling for sponsors whose ads would be placed in Seibu Kikaku's games, in order to raise development funds. According to the dialog in this game, the scheme failed.
A sound test is accessible from the main menu by clicking on the blank space below the two choices.
An unreleased MSX version of this game exists. A ROM of it was published on a CD included with the book Underground Games Reader (裏ゲーム読本) in 1998.[2]
References
[
]
External Links
[
]