Sanguo Chunqiu: Sichuan Sheng
三國春秋四川省

Title screen.
Publisher
NT, Trump Grand, ABAB Soft
Developer
Hummer Team
Console
Famicom
Date
1996
Retail price
600 [TWD]
Sound engine
Hummer Sound Engine
Alternate names/hacks
Sichuan Mahjong II / Shisen Mahjong 2
Three Country
Sanguo Chunqiu: Sichuan Sheng (三國春秋 四川省) also known as Sichuan Mahjong II (四川麻將II) or Shisen Mahjong II (from the Japanese romanisation of the latter title), is a Famicom game based on the mahjong solitaire game Shisensho, developed by Hummer Team and released in 1996 by NT. A fan translation patch was released in 2018 to make the game playable by English speakers.
Overview
Edit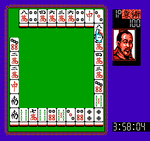 You can choose to play alone, against another player or in story mode. In 1 player mode, the goal is to clear the whole board while in other modes, you must make as much point as possible to go to the next stage. 2 pieces must be joined with less than 3 turns to remove them from the board.
One of the music used for cutscenes is the ending theme of Garou Densetsu Special with a different pitch. The other cutscene music is reused in The King of Fighters '96. The music used for gameplay and the ending in story mode is from Jing Ke Xin Zhuan.
It was re-released on the Power Joy Supermax Famiclone and the Power Joy Navigator by Trump Grand, called "Three Country" in the menu. It also appeared on a multicart listed on ABAB Soft's site, although it is unknown if the latter was released.
Community content is available under
CC-BY-SA
unless otherwise noted.