Smeshariki

Title screen.
Hack of
Mr. Nutz
Publisher
Unknown
Developer
BMB
Original developer
Ocean
Console
Sega Mega Drive
Date
2009(?)
Smeshariki: Krosh's Adventure is a hack of Mr. Nutz based on the Russian cartoon show Smeshariki (also known as Kikoriki in English).
Plot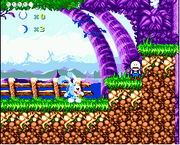 ""In the country of Smesrariks the Smeshariki are celebrating the end of an invention contest, with the winner invention being the dream machine. But Krosh accidently activates the machine, which warps him to DreamLand. Will Krosh be able to get out?" "
—The plot as told by the game
Trivia
The tomato enemy sprite is replaced with a sprite of the main protagonist from an Famicom game called Snow Bros..
Krosh's sprite is taken from a mobile game called "Hard Handies: The Beginning".
The game has a glitch that can break the game after you beat the first level.
When opened in a hex editor it says programmed by TOF and compiled on 27 May, 2009.