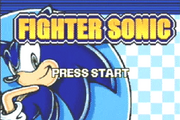 Sonic 3 fighter sonic (also known as Fighter Sonic) is a pirate for the Game Boy Advance and steals music from Vast Fame though they did not take part in it's development. The gameplay is almost half as bad as some of Yong Yong's games, but it was supposedly made by Sintax and the gameplay engine is probably hacked off of one of their older games.
Gameplay
In this game, you play as Sonic The Hedgehog. You can move left, right, and jump. Your form of attacking is "Spindashing" You do the spindashing animation but you throw "spindashes" at foes.
Other versions
Like alot of pirates, this game has been found in many forms.
Rayman IV - A pirate belived to be made by the same company. Graphics are chaged to be more related to Rayman.
Gallery