Super Maruo

Super Maruo's title screen
Console
Famicom
Date
December 1986
Super Maruo (Japanese: スーパーマルオ) is an unlicensed game released in Japan in 1986. Although very rare, this game is the first unlicensed Famicom game and the first unlicensed adult Famicom game as well. Despite the name, it has no relation to Mario at all. (with the exception of the main character being an edit of Mario from Super Mario Bros.)
Overview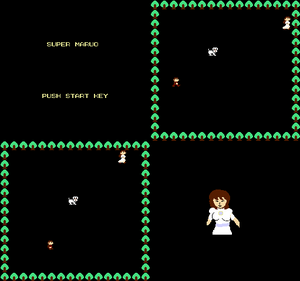 The gameplay is very simple. You're a man and you have to go after the woman running around on the screen. At the same time, you have to avoid the dog that is chasing you around. After grabbing the woman, you are awarded a scene of her stripping or posing. [1] There are only four levels in the game and five erotic animations. In the later levels, your character and the woman also begin to lose their clothes during gameplay.
This game appeared in magazine scans and was sold in shops for ¥6,800 (about $87 today).[2] The high price of the game back then likely contributed to the low sales and rarity of the game. It was rumored that Nintendo also shut down the sales of this game almost immediately after its launch. The final bid for the original cart was ¥499,000 (about $6452 dollars).[3]
Only seven copies of this game are known to exist: two reproductions, two carts with a switch and three carts without the switch. (unknown if these are official or not) It's unknown what the switch actually does but a magazine scan does show it was located in the up left part of the 'u' in "Maruo" while the original cart that was in the auction has it in the upper right of the 'u'. [4]
References
Links
WARNING: Contains pornographic material.
Cartridges and Boxes