JungleTac's games are OK. I Have a 25 Games in 1 plug-n-play controller with games by JungleTac and a GameVison 50 with games also by JungleTac and a Vs. Maxx 17 in 1 with games by also by JungleTac.
Is this a picture of the 25 Game in 1?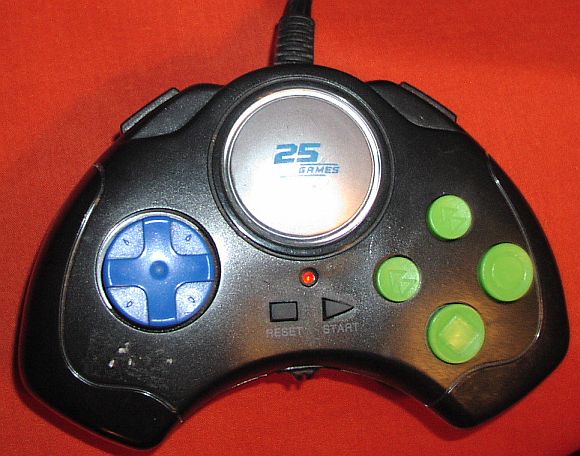 Hey guys I seem to have found a Jungletac console that doesn't have any documentation online called the Super Moto 3. It's been sitting in my basement for years but I never tried to plug it into a TV until now. Anyone else seen or heard of this?
Here's an album with some pictures, apologies for the bad quality, had to take them with my phone: https://imgur.com/a/ohLFT
Billymaize1 (talk) 01:01, August 27, 2017 (UTC)
Update: looked up the FCC ID number on the back of the controller and found this:
https://fccid.io/RP7JT600960/Users-Manual/User-Manual-388989
Apparently the controller was meant to be inserted into a toy motorcycle?
https://fccid.io/RP7JT600960/Operational-Description/Operational-Description-388984
Billymaize1 (talk) 01:24, August 27, 2017 (UTC)

Sorry I'm about two years late but no you're not the only one who has this Super Moto 3 game! I preserved it in video form, and I'm going to try dumping the ROM if possible since my system is about to die and I'm not sure if putting in new batteries will res it.
I'm glad to see someone else out there knows about this thing.

WishMakers65.78.112.113 18:29, November 2, 2019 (UTC)
Try replacing the alkaline AA batteries in the console. Also try checking the battery and battery contacts in your console. 79.101.212.66 07:05, November 3, 2019 (UTC)
Community content is available under
CC-BY-SA
unless otherwise noted.