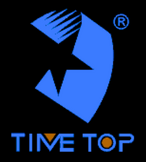 Timetop (sometimes separated as "Time Top") was a manufacturer of 8 and 16-bit game systems. They were a division of Guangzhou Daidaixing Electronics Tech Co Ltd., a company founded in 1994.
Timetop's most notable console is the GameKing, a handheld released in 2003. It was based on fully custom, primitive black-and-white hardware, and over 30 cartridges were released for it. Other Timetop systems include the GameKing III (a colorized variant of the GameKing) and the VT03-based "TV Joystick" plug 'n play series (which had 36-in-1 and 7-in-1 models). Timetop was also likely the developer of the hardware used in "1.8" Handheld Games, but this is unconfirmed.
Timetop was based in China, but their game systems were originally sold exclusively in Hong Kong due to fears of the country-wide video game ban at the time. After Nintendo's Game Boy Advance was released in China through a loophole, Timetop decided to sell their products in their home region as well.
Community content is available under
CC-BY-SA
unless otherwise noted.