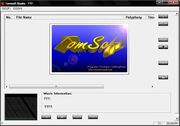 TomSoft MegaDrive SDK was created by Tommy Xie, the lead programmer of
Dragon Co.
, and used by Dragon Co. itself during their Mega Drive era.
The package includes a debugger, C++ compiler, MIDI-2-GYM converter and a lot of English documentation on Mega Drive's chip architecture. In addition, it has an audio player ROM with a lot of reconverted Madonna's songs.
The SDK is available for download for free on Tommy Xie's site, yet a few additional mirrors for this SDK have been provided on Pirated Games Central.
Games created with this SDK