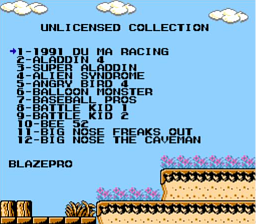 Unlicensed Collection 142-in-1 is a pirate Famicom/NES multicart from 2019 (?), notable for containing a wide selection of unlicensed and bootleg games.
This cartridge collects well-known bootleg Famicom games, as well as many unlicensed games, homebrews and hacks of official games.
This multicart is 32 megabytes in size. Only 4 of the 142 games could be considered repeats, as they are hacks of other games already included in the list. Pressing 'Left' or 'Right' will take the player to the previous/next menu screen and pressing 'A' or 'B' will skip 5 screens (60 games) at once.
This cartridge has a working save battery, however only one game can be saved at a time (launching any other game that uses SRAM will overwrite the save data).
1991 Du Ma Racing
Aladdin (Hummer Team) (MMC3 hack)
Alien Syndrome
Angry Bird 4 (Graphical hack of The NewZealand Story)
Baseball Pros
Battle Kid: Fortress of Peril (Version 1.1)
Battle Kid 2: Mountain of Torment
Bee 52 (Crashes on PAL Famiclones)
Big Nose Freaks Out
Big Nose the Caveman
Blackjack
BMX Simulator
Boomerang Kid
Bubble Bath Babes (Full version)
CJ's Elephant Antics (Crashes on PAL Famiclones)
Chip 'n Dale 3 (Graphical hack of Heavy Barrel)
Cosmos Cop
Darkwing Duck 2 (Hack of Darkwing Duck with new levels)
Deathbots
Dizzy the Adventurer
The Fantastic Adventures of Dizzy
Go! Dizzy Go!
Treasure Island Dizzy
Wonderland Dizzy
DJ Boy (Title screen hack of Rollergames)
Double Strike (also known as Twin Eagle)
Tu Long Dao (Dragon Knife)
Earthworm Jim 2 (Shin-Shin)
F-16 Renegade
Fantasy Zone (Tengen)
Felix the Cat (Dragon Co.)
Fire Hawk (Crashes on PAL Famiclones)
Jing Hua Yuan
Gaiapolis
Zhen Jia Hou Wang
GLK Dance (Alternate version of Hot Dance 2000) (Includes full version of Nintendo's Pinball)
Golden Axe III
Gotta Protectors: Amazon's Running Diet
The Hacker (Repeat – Graphical hack of #43 – Felix the Cat (Dragon Co.))
Harry Wrestle (Graphical hack of Panic Restaurant)
Hot Slots (Incomplete version with scrambled intermission graphics)
Huang Di: Zhuo Lu Zhi Zhan
The Hunt for Red October
Indiana Jones and the Temple of Doom
Linus Spacehead
Linus Spacehead's Cosmic Crusade
Super Lion King (Mapper 4 version)
Locksmith
Magic Block
Mario 16 (Graphical hack of Joe & Mac)
Mermaids of Atlantis (Incomplete version with scrambled intermission graphics) (Repeat – Alternate version of #19 – Bubble Bath Babes)
Micro Machines
MiG 29: Soviet Fighter (Crashes on PAL Famiclones)
Monkey King
Mortal Kombat II (Hummer Team) (Mortal Kombat III version with duplicated roster)
Ultimate Mortal Kombat 3 (Repeat – Early hack of #82 – Mortal Kombat 3)
Mortal Kombat 3 (256 KB Mortal Kombat 4 version with reduced roster)
Mortal Kombat 5 (Mortal Kombat Trilogy version with duplicated roster)
Ms. Pac-Man (Tengen)
Pac-Man
Peek-A-Boo Poker (Full version)
Arctic Adventure: Penguin & Seal
Pikachu (Graphical hack of Tiny Toon Adventures)
Pokemon 2000 (Graphical hack of Mitsume ga Tooru)
Porter
Pro Tennis
Puzzle
Rad Racket: Deluxe Tennis II
R.B.I. Baseball
R.B.I. Baseball 2
R.B.I. Baseball 3
Rocman X (also known as Thunder Blast Man)
Sidewinder (also known as Mission Cobra)
Skiing (Graphical hack of Rad Racer)
Soccer Simulator
Solitaire
Sonic 2018 (Repeat – Enhancement hack of #110 – Somari)
Space Boy (also known as Metal Fighter)
Stunt Buggies (Crashes on PAL Famiclones)
Stunt Kids (Crashes on PAL Famiclones)
Super Robin Hood
Super Sprint
Tetris: The Soviet Mind Game (Tengen)
Chik Bik Ji Jin: Saam Gwok Ji
Tiles of Fate
Toita Basketball (Title screen hack of Taito Basketball)
Toobin'
Trolls on Treasure Island
The Ultimate Stuntman (Crashes on PAL Famiclones)
Universe Soldiers
Vindicators
War in the Gulf
Lu Ye Xian Zong (The Wizard of Oz) (Battery save option)
Wonder Rabbit (Levels 1 and 2 of Gardman)
Bee 52 (#10), CJ's Elephant Antics (#20), Pro Tennis (#95), Stunt Buggies (#115), Stunt Kids (#116) and The Ultimate Stuntman (#134) will crash on PAL Famiclones due to region autodetection code within those games. These games detect the clone's PAL speed and will attempt to run in NES PAL mode, despite PAL clones actually running in modified NTSC mode. They will work correctly on official NES/Famicom or on an NTSC clone.
Super Aladdin (#3) and Super Lion King (#67) are known to crash on some newer Famiclones. This is not the cartridge's fault. These games will work fine on original hardware and older clone systems.
Community content is available under
CC-BY-SA
unless otherwise noted.