VG Pocket 50

Title screen.
Release date
2005
Manufacturer
JungleTac
Distributor(s)
Performance Designed Products (Pelican Accessories)
System
VT09
Included games
50
Game developer(s)
JungleTac
Product ID no.
VG-2000
Alternate name(s)
VG Pocket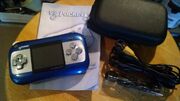 The VG Pocket 50, also known as VG Pocket, is a VT09-based handheld manufactured by JungleTac and distributed by Performance Design Products. As its name suggests, the VG Pocket 50 has 50 built-in games. Its internal name is VG-2000.
Action:
Get it Right
Lawn Gems
Leap
Road Works
Smash Ball
Racing:
Bandit Racer
Motor Alley
Road Ace
Road Race
Shooting:
Air War
Earth'sstarfighter
Quick Shot
Sky Fighter
Space Shooter
Sub Hunter
Sports:
Bulls-eye
Free Throws
Surfs Up
Target Shoot
Wits:
Bird Craze
Bird Droppings
Bounce
Butterfly Catch
Chuck Holes
Dragon's Tail
Drop and Stock
Egg Catcher
Fire Fight
Flying Fish
Fungi
Globs
Go Ball
Go Bang
Grow and Mow
Jewels
Matching Diamonds
Fun Moves
Paddle Ball
Paint
Patch'n Go
Pipelines
Pool Pro
Rainbows
Ricochet
River Racing
Sea Destroyer
Sky Mission
Smart Monkey
Spin Ball
Wake the Baby
Community content is available under
CC-BY-SA
unless otherwise noted.