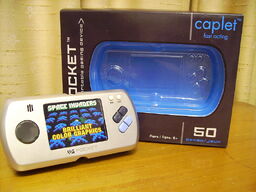 The
VG Pocket Caplet
is a dedicated console created by Performance Designed Products, under Pelican Accessories, with games developed by
Jungletac
. Its graphics are considered an improvement over those of the earlier models of the VG Pocket, with a very bright 2.5" backlit 320×240 TFT display. (The package claims its resolution is 960×240, counting the RGB triads to make 3× the number of pixels, perhaps as an attempt to claim the unit is 'widescreen'.) It is a 16-bit system that appears to utilize some form of arcade emulation, since the majority of its games are either direct ports or clones of arcade games. The unit has the capability of being displayed on any TV set with the purchase of a separate "starter kit" that includes a storage carrying case and special AV cables unique to the system. There are no save features for high scores or game progress. Caplet comes in four colors: blue, silver, red, orange; and is powered by 3 AAA batteries.
Comes with 50 built-in games: (many are listed under different names than on other Jungletac consoles)
Space Invaders (licensed arcade port)
Bust-A-Move (licensed arcade port)
BurgerTime (licensed arcade port)
Sudoku Quiz (something of a misnomer, as there is no quiz included)
Boxboy (Sokoban clone)
Adventures of Waldog (platform game, not to be confused with Buzz and Waldog)
Deep Storm (3D shooter like Space Harrier, included on the Zone 60 console)
Bubble Wubble (Tetris clone)
Final Escape (Pengo clone)
Wolfy's Quest
Legendary Hero (clone of Don Doko Don)
Craig the Caterpillar (Go! Go! Smile Mile clone)
Crystal Cavern (Magical Drop clone)
Final Round Tennis!
Magic Jelly (nothing like Bomberman, the goal is to use your bombs to change the color of every block on the screen, without leaping to your death.)
Blazebusters (Flying Hero clone)
Rotating Puzzle (animated slide puzzle game)
Underwater Pinball (Arkanoid/Breakout clone)
Bubble Blaster (Zuma clone)
Greedy Grabber
Puzzle Chance (Bejeweled clone)
Victory Road (Frogger clone)
Jet Racing (Pole Position clone)
Yummy and Tasty (Gussun Oyoyo clone)
Code Name: Plumber (platform game unrelated to Super Mario)
Hanoi Tower
Leapfrog
Win or Lose
Pop goes the Ball! (Pang! clone)
Kart Racer X (overhead racer)
Battle Blocks II (Arkanoid/Breakout clone)
Switch and Mix (Lights out clone)
Survival Challenge
Go Back Home!
Motojet Mania (overhead racer)
Tiger Rescue (vertical scrolling shooter close relative to AeroFighters)
Billiards Master
Mr. Onion
Wacky Racing (Pole Position clone)
Tennis Caddie
Blaze of Glory (horizontal scrolling shooter)
Underwater Memory
Crane Maniac
Go Bang
Jewel Master 2 (Magic Jewelry/Super Columns clone)
Smashing Ladybugs
Submarine
Slot Machine (casino game)
Video Poker (casino game)
Black Jack (casino game)

There seems to be some confusion as to how many games are on the units. Early versions of the Caplet contain 35 games, with the current version having 50. Both units, as far as outward appearance, are identical. The packaging of the unit is the only outward way to identify how many games are on the system, that is, unless you actually turn the unit on.
Community content is available under
CC-BY-SA
unless otherwise noted.