Wario Land 3

Title screen
Hack of
Puggsy
Original developer
Traveller's Tales
Console
Sega Mega Drive
Wario Land 3 is a hack of Puggsy for the Sega Mega Drive. When played on an emulator, the game will often throw up an error message and refuse to let you play past Stage 5; this is because the anti-piracy SRAM check from Puggsy is intact (Puggsy does not have SRAM, but many emulators will create an SRAM file for the game anyway).[1] This error will not show up on real consoles and real hardware.
Gameplay (many Edits NEEDED) I don't know much of what I'm doing
Wario Land 3 is puzzle-physics based platformer where you use Wario to grab various items throughout each 'Stage' that can help you platform.
In order to complete each stage you must avoid on coming enemies and find an orb to bring to a door at the end of each level. Wario can jump with the B button and grab items with A. C is unused.
The main mechanic of the game is grabbing. Note Wario can only pick up one thing at a time. He can carry a small array of different things (mainly barrel) to help him complete each section of plaforming and each "puzzle".
He can carry:
Barrels
A Gun (to defeat enemies)
look up more person editing this please
also look up power ups in the game I don't know much about them
5. keys for treasure chests for "puzzles"
Gameplay Video:
☀https://www.youtube.com/watch?v=d_xSaDiADjE
Template:God damn it why was my article a stub, im working hard
Differences
The only changes are Puggsy's sprite, and the title screen. Other than this, the the game is completply identcal to Puggsy, the game it's a sprite hack of.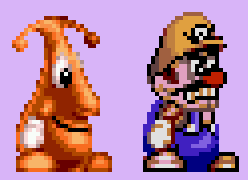 Gallery
Main Article: Wario Land 3 (Mega Drive)/gallery
References