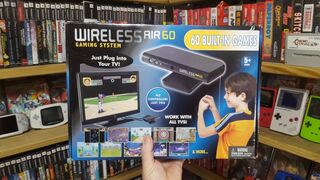 The Wireless Air 60 is a console made by JungleTac, and is the successor to the Wireless 60.
The console itself resembles Microsoft's Kinect device that comes with the Xbox 360 S consoles. Like the Kinect, the Wireless Air 60 uses your body instead of a physical controller to play games.
The Wireless Air 60 has a composite video output with stereo audio.
It does contain 60 games as its name suggests, but all of them have equally poor control mechanics. The games are split into four categories: action, arcade, skill, and sports. The user plays the games by moving their body, which changes the color of the pixels on the TV screen. Some of the games are copies of others with different backgrounds. One of the games also crashes.
Sports
Tennis
Boxing
Ping Pong
Goal Keeper
Beach Volleyball
Golf
Baseball
Skiing
Kung Fu
Air Hockey
Beach Soccer
Shot Clock
Dodgeball
Penalty Shot
Curling
Driving Range
Bowling
Skill
Horse Shoes
Drum Master
Number Balls
Wipe Off
Puzzle-slider Puzzle
I Spy
Waiter Please!
Rope Dancer
Making Burgers
Slice And Dice
Chop Chef
Keep The Beat
Darts
Lawn Darts
Bag Toss
Action
Sonic Fighter
Mighty Rescuer
Speed Rider
Break The Ice
Free Style
Keep Away
Cool Cycling
Super Motocross
Jet Ski Adventure
Surfs Up!
Crash Zone
Shuffleboard
Ancient Secret
Juggling
Arcade
Don't Break The Eggs
Drift
Galaxy Ping Pong
Fly Swatter
Mole Mash
Star Force
Obstacle Race
Jogging
Falling Fruit
Pinball Adventure
Monkey Business
UFO Defense
Crocs On Parade
Ocean Depths
Community content is available under
CC-BY-SA
unless otherwise noted.