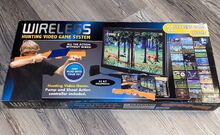 The Wireless Hunting Video Game System, also known as Wireless, is a console made by JungleTac in 2011.
Overview
[
]
The console itself utilizes a gun for the controller and comes with twenty games. The gun relies on a motion sensor on the front of the gun's barrel, which then communicates with either the console or a sensor which you can stick to the TV. Because of this, the gun is "wireless" as its name suggests, and uses AA batteries held in a cartridge which stows in the back of the gun.
Games
[
]
Here is the list of all the games included in the Wireless console:
Secret Mission
Predator
Delta Force
Toy Land
Dream Forest
Trophy Season
Freedom Force
Be Careful
Net Power
Open Training
Super Archer
Ultimate Frisbee
UFO Shooting
Happy Darts
Balloon Shoot
Avatair (AvatAIR)
Angry Pirate
Penguin War
Ghost Shooter
Duck Hunt
Trivia
[
]
The game Balloon Shoot features the logo of Nice Code Software on some of the balloons, which implies they developed the console's built-in games.
The Wireless is a copy of the Big Buck arcade game, with the exception of the latter performing better and being more refined and better designed.
The Wireless can be seen as the successor to the Wireless 60, also made by JungleTac.
A variant of this console exists, known as the Hamy Top Hunter.